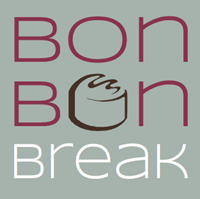 Bonbon Break is an online magazine that features women bloggers!
Kathy and Val
scour the blogosphere each week in search of posts they want to share in their magazine. Bonbon Break has been rewarding for me, personally. Not only because I was asked to be a post contributor in the premiere issue, and several times since, (Toot! Toot!--that's me tooting my own horn!) but it has also been a great place to connect with other bloggers. All of the contributors have the option of joining the private
Facebook
group, and are able to make pins to the
Bonbon Break's Pinterest
board. It has been a real joy to meet other women passionate about their lives, and sharing it with anyone who wants to read about it. I know there are other sites whose goal is to unify the blogging community, but I really like Bonbon Break best.
First, the name. Bonbon Break. I mean, don't we all need a Bonbon Break? So 'nuff said. Another reason I like Bonbon Break is because of the visual style of their site. In the pink ribbon across the top of their header, you can see the categories:
Front Porch, Kitchen, Family Room, Bedroom, Playroom, Mom Cave, and Backyard
Each week Bonbon Break features 3-4 posts in each category. These posts really are the cream of the crop. I feel that Kathy and Val have a knack for picking a wide variety of topics that will appeal to most everyone. As you can see from the screen shot I took of the magazine this week, they feature each post with an image to help you quickly figure out where you want to go! (If you sign up for their email, you'll get the same beautiful layout!)
If you are a blogger, you MUST familiarize yourself with Bonbon Break. Not only for the great friends you'll find here, but also for a chance to become a post contributor. The
submission
link at the top of their page describes the upcoming posts they are looking for, describe the qualifications for being featured. And even if you're not a blogger yourself, you'll still love the great pieces featured at Bonbon Break. So, if you haven't already, be sure to stop by and check it out!