Using a combination of fiction and non-fiction books is highly recommended for children in the early elementary age grades. I've been working with Andrea at
No Doubt Learning
and Erin at
The Usual Mayhem
to bring you an extensive worm unit. We've assembled a wonderful selection of books to read to our kindergartners. Here's a look at how I used some of the books in our unit. I hope this is helpful.
Fiction
There's a Hair in My Dirt
There's a Hair in My Dirt, by Gary Larson (yes, the Far Side Cartoonist) has been a personal favorite of mine since it came out in the late 90's. I read it to my high school students to introduce certain units in my biology class. While there are parts of the book that are not appropriate for a kindergartner, you can avoid those by not reading the thought bubbles aloud. And much of the humor is lost on the younger kids, but I'm telling you, this is a book you will not mind reading over and over again. The book is actually two stories in one. It is from the perspective of a little boy worm, who is unhappy with his lot in life, and so his Dad tells him a story about a "fair" maiden to cheer him up. Its packed full of good science, making the point that people who like nature often misinterpret what they see. My 5-year old son walked away with the understanding that worms help decompose animals after they die. In the last page of this book, the worms spell out the words..."See You Soon!" I read "There's a Hair in My Dirt" on the first day of our unit to set up the importance of these rarely seen invertebrates. Its also a good time to talk about perspective.
The Magic School Bus Meets the Rot Squad: A Book about Decomposition
Sporting a yellow dress, patterned with WORMS and bugs, Ms. Frizzle, these kids learn that there is much more than meets the eye when it comes to fallen tree. While the science in the book is spot on, so is the science learning philosophy. My favorite Ms. Frizzle quote is, "Take chances! Get messy! Make mistakes!" Oh, you gotta love that!
We read the book first then watched the TV version from You Tube!
Diary of a Worm
Our family loves Doreen Cronin's Duck books, so we knew that the
Diary of a Worm
would be a great book for our unit. We followed closely the lesson plan found at
Read, Write, Think
. They suggest flipping through the book multiple times with your kids. The first time, we didn't read the words, just looking at the illustrations. I introduced the idea that the book will be a combination of both fact and fiction, we made a list of the illustrations we knew were factual. The second time we went through the book we read it for the story line. Read, Write, Think had some great graphic organizers to use. The third time, we payed closer attention to the thought bubbles and also constructed a fiction list, for things we knew worms couldn't really do, like write in a diary!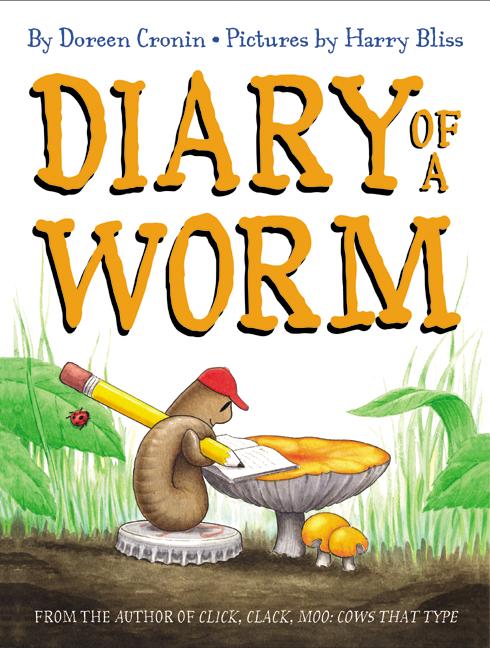 Non-Fiction
Wiggling Worms at Work by Wendy Pfeffer
"Wiggling Worms at Work" has both accurate scientific information, yet fun cartoonish, illustrations. It is packed full of so much wormy information, while we did read it cover to cover, I also re-read pages that aligned with our weekly themes
Physical characteristics (pgs. 8-11, 14-17)
A Worm's life (pgs. 12-15, 18-29)
Worm's enemies (pgs. 16-17)
Worm's role in the environment (pgs. 4-7, 30-31)
Worms Are Gross by Leigh Rockwood
While this books covers all kinds of segmented worms, earthworms are the focus. This book has wonderful photographs. I particularly like the book's book focus on the amount of worms in the soil, worm's habitats, the easy to understand life cycle graphic (pg. 12-13), and the photographs of a bird and frog eating a worm!
Twist, Wiggle, and Squirm: A Book about Earthworms by Laurence Pringle
While
Twist, Wiggle, and Squirm; A Book About Earthworms,
was published in 1973, I really like it. The illustrations are sketches, mostly black and white, with a few pages that have gold and green color. I copied the pages for my son to color while I read (a common practice in our house). I particularly like the image of the worm pulling on the worm on page 11. This really helped solidify for us the importance of the bristles (setae)! It also has a sketch of a mole eating a worm, which was missing from a lot of the other books.
Earthworms: Underground Farmers by Patricia Lauber
We did not read "Earthworms: Underground Farmers" cover to cover, but referred to sections as we needed. The illustrations are a combination of photographs and sketches. I made copies of the sketches "An Earthworm's Body" on page 10 and "Inside a Worm's Body" on page 32 as coloring pages. They are simple and show labels clearly, just what I wanted for my kindergartner. But most of the book is geared for older readers. We loved the photographs, specifically the salamander eating the worm on page 22.
Earthworms, Dirt, and Rotten Leaves: An Exploration in Ecology
This is not a book I read to my son, but I used it as a reference as I put together the unit. Earthworms, Dirt, and Rotten Leaves by Molly McLaughlin was my primary resource for experiments that I designed for our unit.